No-Code AI
Credit Scoring
Software
One button solution for innovative credit scoring.
Fight bad loans
with the AI-powered
GiniMachine
platform. Build unique scoring models and make
solid credit decisions within
seconds.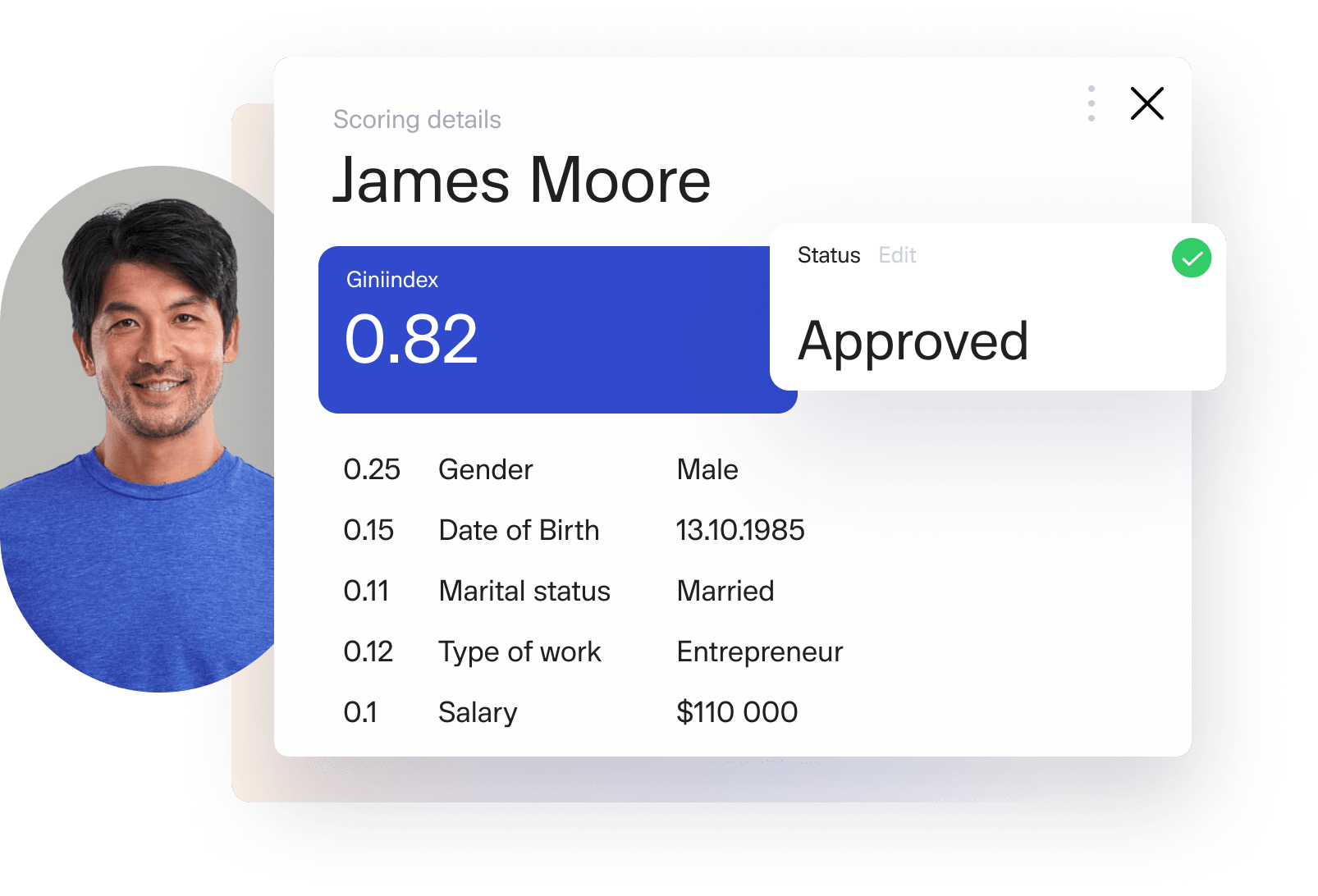 AI-driven Credit Scoring Solution
Analyze your data in a new automatic and autonomous way.
GiniMachine can
free you of manual work
enabling you to enjoy
credit scoring. Empowered with AI and ML, the
platform stands
for accuracy
in predictions and low-risk experience.
Machine Learning Credit
Scoring
A new experience of careful credit decision making with the AI-powered GiniMachine platform
Minimize bad loans
Distinguish potentially bad borrowers to fend off undesirable
risks. Tune your cut-off value and focus on applications with high-performing figures.
Using GiniMachine AI, you know how to properly manage your time.
Use alternative data
AI credit scoring software will help you analyze parameters that
traditional systems ignore or miss out on to reach thin-file borrowers. WIth
GiniMachine, you will forget about limits and build hundreds of scoring models setting
up unique parameters, such as age, occupation, location, etc.
Develop unique models
Build business-oriented models by using cases from your
historical data. Analyzing your previous credit-granting cases, GiniMachine will drive
models that perfectly fit your business and your risk assessment rules.
Get thorough reports
Receive a detailed validation report every time a model is
built. Our credit scoring solution allows tracking the discriminate power of models and
getting valuable statistics, such as calculated Gini Index, K-S score, and others.
Get more free time
Enjoy the reduction in expenditures for solving standard credit
scoring tasks. GiniMachine easily integrates into your routine working processes and
saves your efforts. If something changes in your company, product offers, or target
market, the system will easily adapt to anything.
Relish ease-of-use
No need to train your team when integrating GiniMachine into
your processes. Our credit scoring software doesn't require experience in ML, coding,
and statistics. Ramp up, build models, score applications, and grant loans.
A Loan Product with High NPL Rate?
Ginimachine uses historical data analysis to help design new loan products that have a higher
likelihood of yielding returns.
Case Studies
Empower your decision-making process with a cutting-edge solution. Find out how our clients already
succeeded with GiniMachine AI and build your story with our team.
Start Using Artificial
Intelligence Right Now
Escape from outdated technologies with machine learning credit scoring.
Get a
free 30-day trial to start your GiniMachine story.