Credit Risk Management
With GiniMachine you can build business-specific credit risk models without coding. Our credit risk management solution saves weeks of manual work and requires no special training and no extra skills.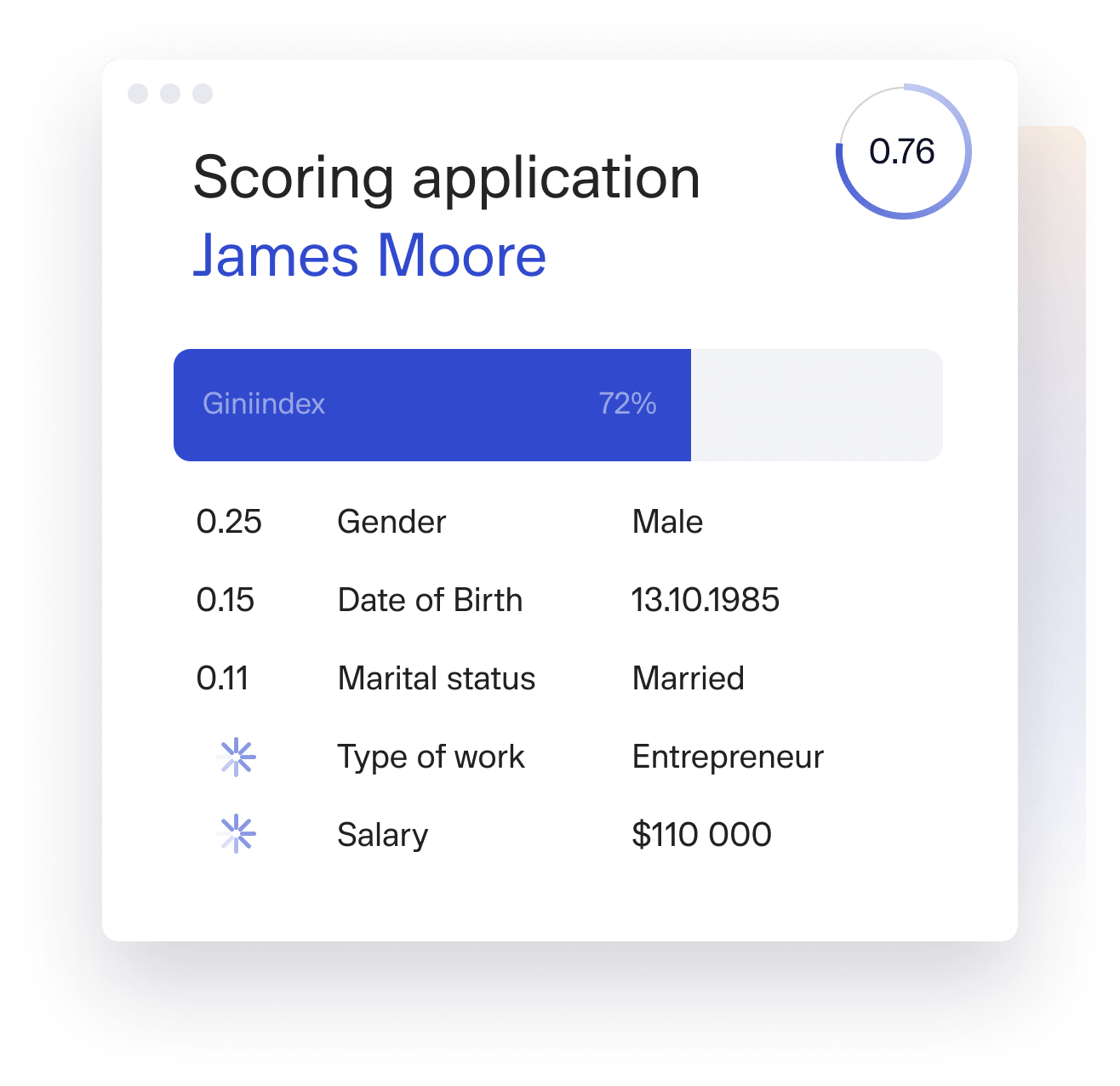 Acceptable level of credit risk exposure
Increased financial stability
More predictable income
Decisions empowered by technology
No-Code AI Risk Management Software
SaaS platform powered by AI and ML is aimed at making risk management in lending effective and hassle-free. GiniMachine builds, validates, and deploys credit risk models using your company's historical data. It takes seconds or minutes to reveal hidden dependencies, compare and make informed business decisions.
Risk Management Software for Banks and Finance
Using an automated credit risk management solution for credit scoring, lenders can grant loans at low risk and reduce non-performing loans. The software fits online lending, commercial and POS lending, auto finance, credit card lending, and more.
Spend a coffee break revealing new business opportunities powered by GiniMachine. Start a 30-day free trial to explore the platform in action.
Get a free trial
Competitive Edge of GiniMachine
Powerful ready-to-use web-based app with a machine learning core. We fortified the custom implementation of the tree ensemble method with handpicked heuristics and proprietary know-how. With no engineering skills, you send data to preliminary processing and analysis, and then receive a user-friendly display of results.
Works with any kind of data, both structured and unstructured. It builds, validates, and deploys models in 2-10 minutes.
Provides proven economic efficiency — fewer NPLs, higher acceptance rate, better performance of a loan portfolio.
Requires no special training, helps to save time, and to reduce labor costs. Start using GiniMachine right away.
Start Using GiniMachine Today
Meet the GiniMachine team, check out how it works, and discover the advantages for your business. Enter your contacts — and we will reach out to schedule a quick product tour.
Get a free 30-day trial