No-Code AI Application Scoring System
You are here because your business goals most likely include automated application scoring, fast loan origination, accurate credit scoring, risk management, or an improved lending portfolio. And that's exactly what GiniMachine's capabilities are.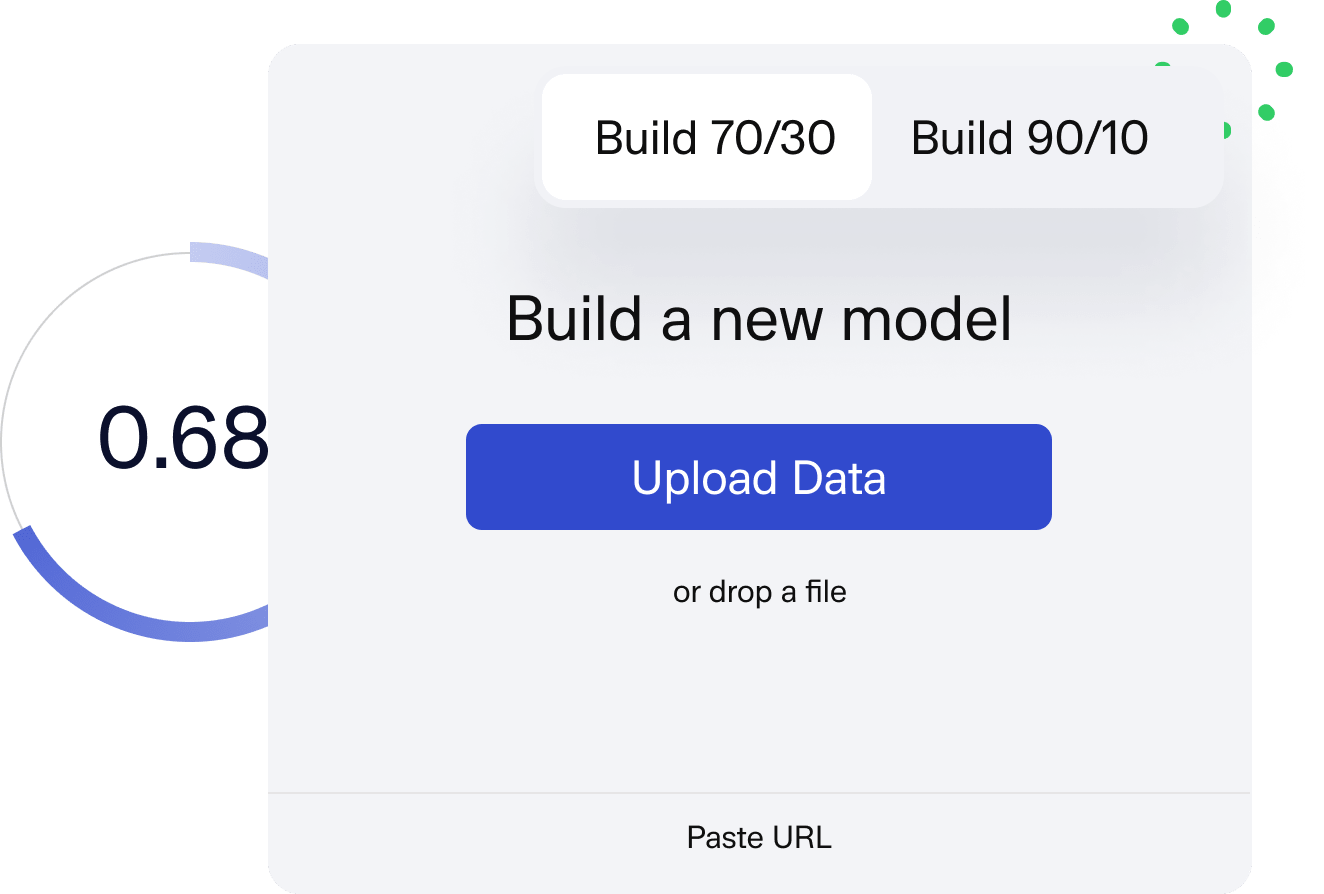 Automate Application Scoring with AI
GiniMachine is a web-based platform using AI and ML to assist in smart and powerful application scoring. No-code development of prediction models will help you reinvent customer onboarding, automate decisions, and gain more profit at the considerable risk level, which is defined by you.
Why GiniMachine
GiniMachine application scoring software refines your expertise: takes your historical data, builds, validates, and deploys scoring models in seconds, maybe minutes, depending on the dataset.
Our task is to use predictive analytics and show binary predictions with a high Gini Index. We make business decisions AI-powered, but they remain yours.
No-code AI
No special training and no large teams are required to build dozens of application scoring models and implement them.
Proven lending KPIs growth
Including a higher acceptance rate, better loan portfolio performance, and several folds reduced NPLs.
Any type of data
GiniMachine can use raw or processed data, consider missing fields and build models in a few seconds or minutes.
Better customer experience
Application scoring automated with AI and ML means fewer process bottlenecks and fast and frictionless customer onboarding.
Customized scoring
Supervised learning algorithms process and prioritize certain data types to create scoring models tailored to your business.
Multi-purpose use
The decision-making system can also be used for churn rate analysis, collection scoring, and marketing purposes.
Approve more eligible applications faster with GiniMachine. Contact us for an engaging tour around predictive analytics for banking services.
Book a Demo
Case Studies
It is always useful to back up the description with examples. Read the success stories of our customers to see the potential of GiniMachine in improving the company's workflow, controlling risks, and maximizing profit.
More case studies
Request a Live Demo
We promise to be brief and to the point. You will see how GiniMachine builds models and unveil the application scoring opportunities in full. Just leave your contact information, and we will reach out to you as soon as possible.
Get a Free Demo