No-Code AI
Decision-Making Software
Build a predictive model in a few clicks and get actionable
business
insights.
Software as a Service. No coding is required. Enhance your decision-making
process with
cutting-edge
AI
and boost your productivity
Reduce risks by up
to 45%
Improve your credit
portfolio
Reveal value of your
data insights
Predict churn and retain
customers
Automated Decision-Making Platform
Say goodbye to antiquated spreadsheets and static data visualization! Embrace the power of AI
and
gain a glimpse into the future. GiniMachine algorithms not only simulate and compare, but they
also
ignite your strategic action plan.
No need to have ML engineers or large teams of data scientists on board. GiniMachine AI-powered
decisioning platform can process terabytes of historical data. It builds, validates, and deploys
predictive models in minutes, not days.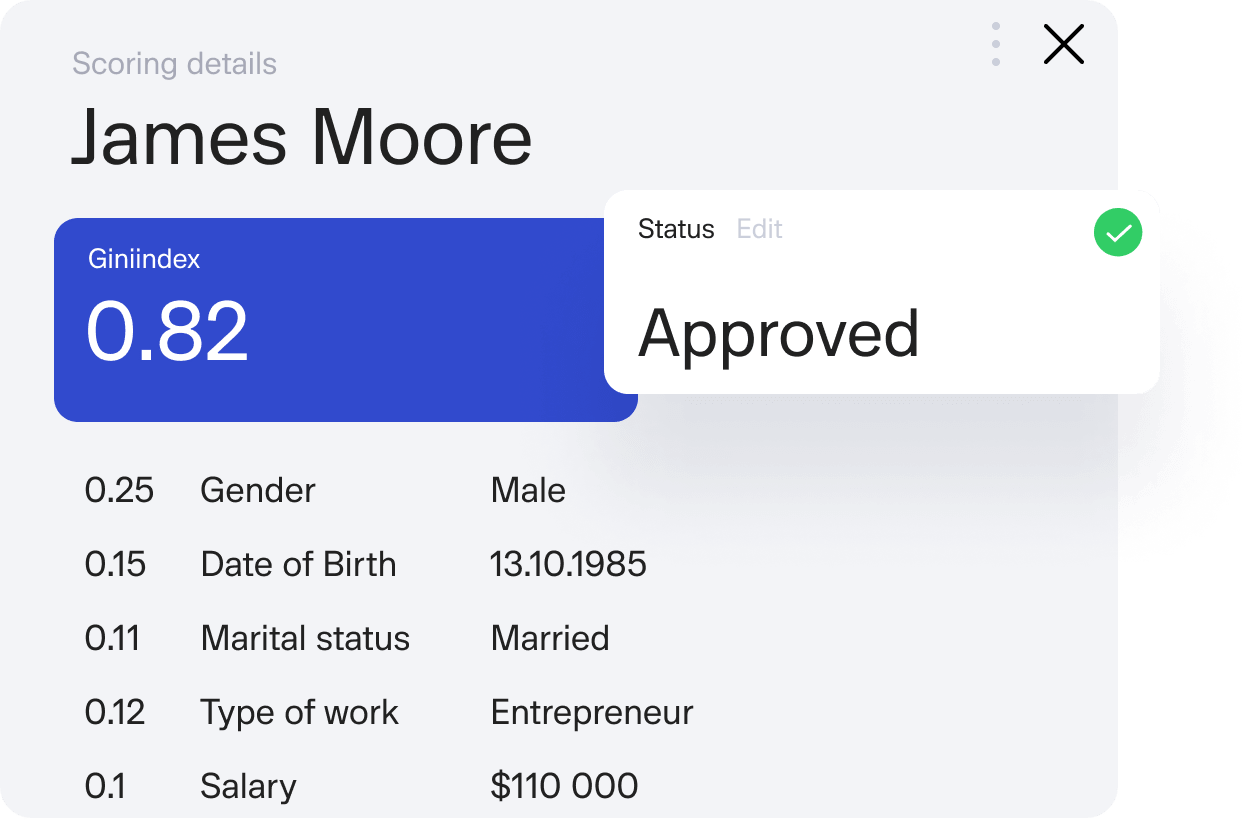 Credit Scoring
Sweep away the limitations of traditional credit scoring.
Empower your business with AI
underwriting decision software, unlocking the potential to extend loans to even
thin-file borrowers. Discover the perfect harmony between maximizing profits and
managing risks.
Collection Scoring
GiniMachine helps to prioritize debtors primed for fast payback.
It suggests the most
effective collection tools, be it calls, messages, or other methods, based on scoring
parameters. The outcome? A significant boost in productivity for collection businesses
and a swift goodbye to time wasted on non-performing debts.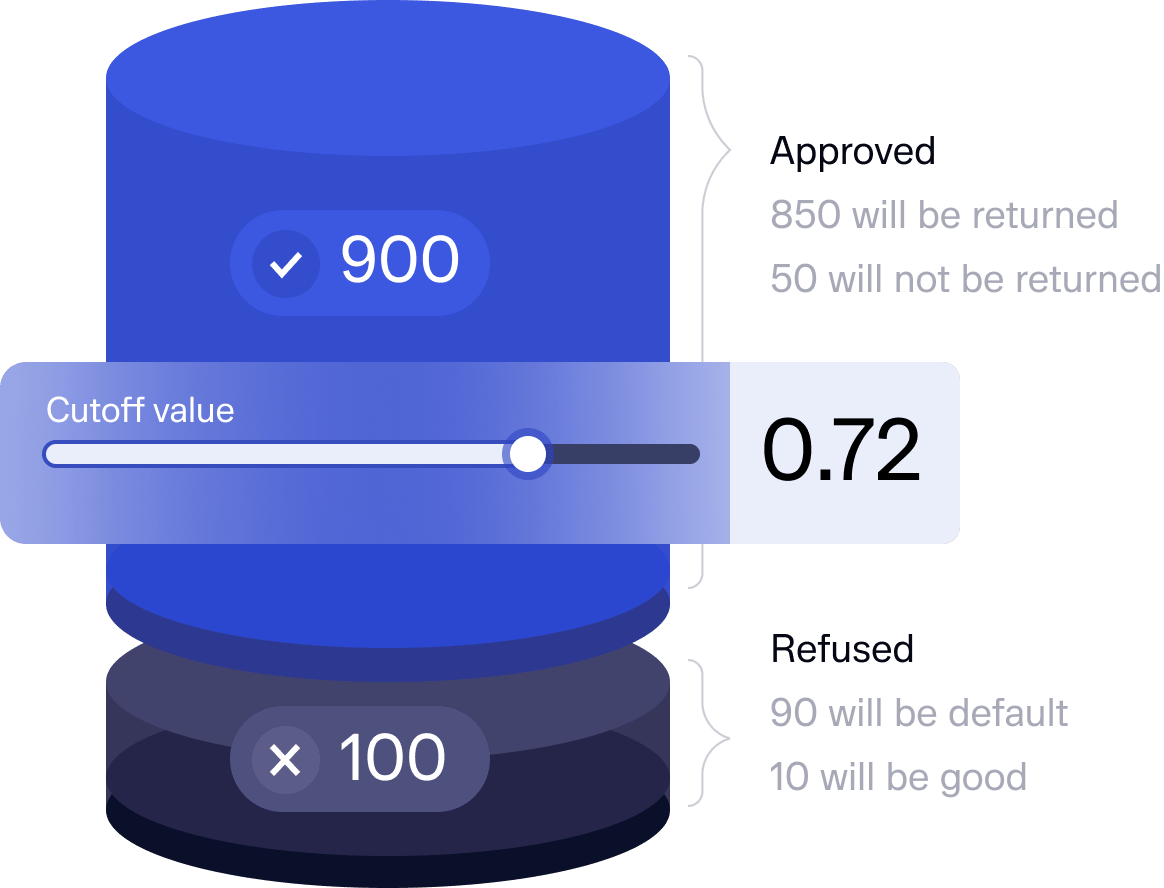 Fast and Free Credit Department Audit
Check your credit department on biases and human errors using a comprehensive guide from GiniMachine. You will receive it right away.
No-Code AI Predictive
Modeling
GiniMachine is an AI-powered decision management platform that enables

balanced decision-making
across a variety of business types. Select your industry
to explore the
advanced features of
GiniMachine.
Building a model
Unlock precision with just 1000 raw records of past business decisions and their
outcomes. GiniMachine automatically deciphers the most impactful factors leading to a
positive or negative result.
Validating
GiniMachine crafts a predictive model from the historical data you provide. It also
self-assesses its own accuracy and suitability for business forecasting, all in a matter
of seconds.
Deployment
Unleash the power of prediction by uploading your latest data. The predictive model
deciphers the influence of each variable, predicting the decision that will drive your
success.
Debt Collection
Agencies
AI software for debt collection agencies fuses data analytics and
machine learning to
maximize debt recovery efficiency. Focus your collection efforts on accounts brimming with
repayment potential, optimizing resources and trimming operational costs. GiniMachine crafts
tailor-made debt collection strategies, creating a streamlined workflow that minimizes
manual labor.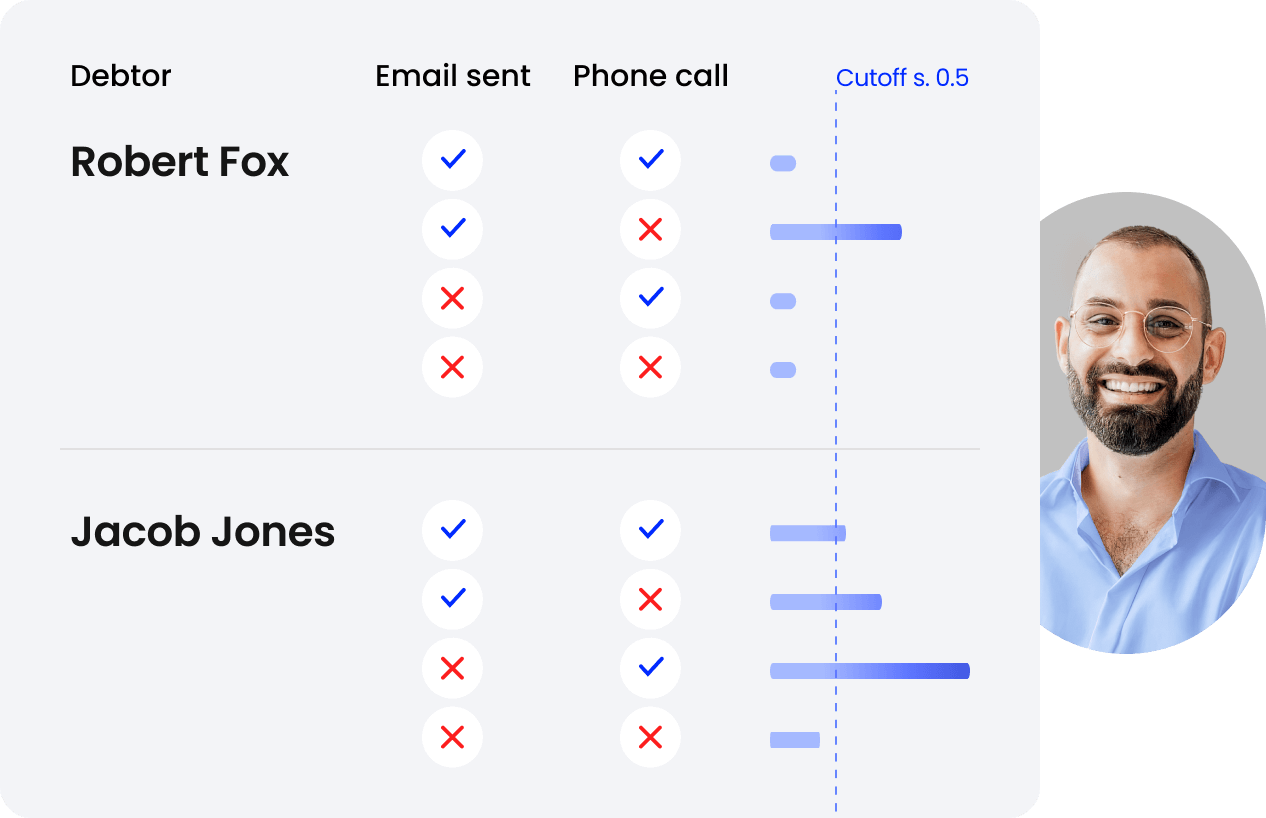 Alternative Lenders
GiniMachine scores credit applications and loans using diverse alternative data sources,
from rental and utility payments to
asset ownership and public
records.
It's like having a
crystal
ball as it zeroes in on high-risk assets and anticipates
loan

repayments. Streamline
your operations with an automated
pre-approval system for incoming
applications and
fine-tune
your credit portfolio risk.
Unlock the power of AI for your financial business. Test
GiniMachine free for 3 weeks.
Start Data Scoring with
GiniMachine