Back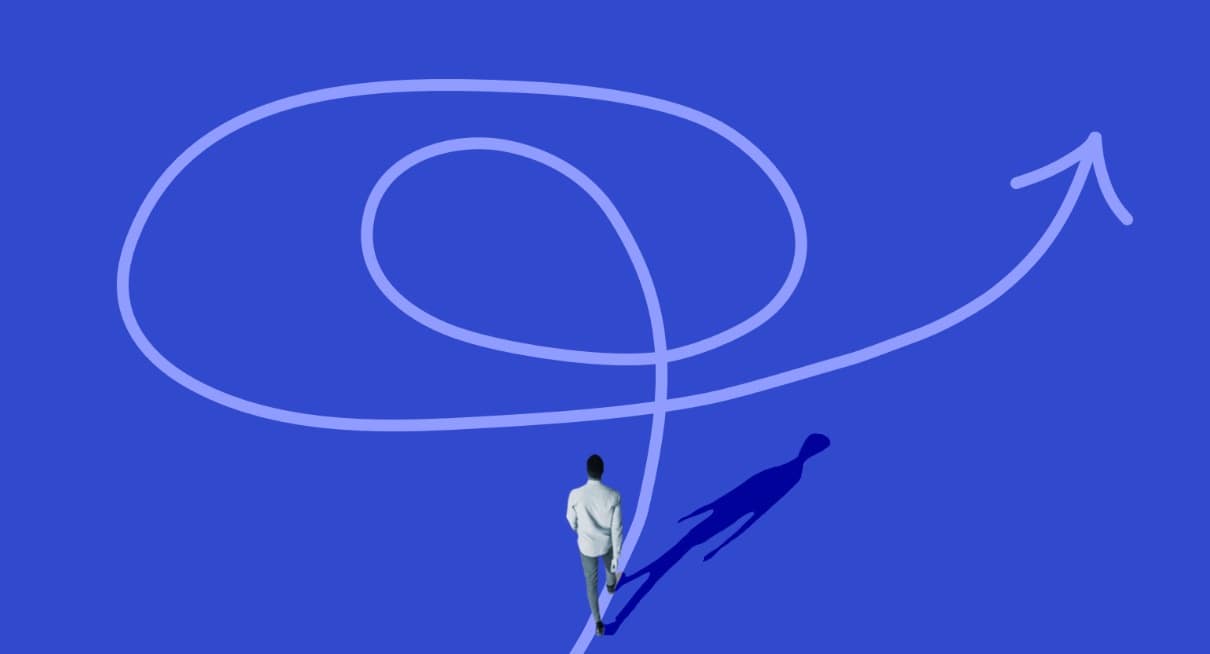 AI
What Is No-Code AI Software & How It Is Changing Business
As businesses search for ways to implement Artificial Intelligence, in some cases, they get discouraged by considerably high expenses and the need for specialized knowledge. However, no code machine learning and AI solutions appeared in the market to change the situation. In-depth coding knowledge is no more a must-have for businesses to receive all of the benefits AI brings. No code AI helped to substantially reduce costs due to moving away from AI software development from scratch.
The AI without coding trend is doing a great job across many industries, and exactly this idea became the cornerstone of GiniMachine development. When creating GiniMachine, we have been researching the market of AI solutions for businesses and the idea of no-code development in predictive analytics. Our goal was to build a platform that would assist in no code analytics and decision-making using AI/ML algorithms under the hood so that customers with no technical background and no coding experience could use it. In this article, we are talking about the no-code AI concept.
What is No-Code AI: Basics
No-code AI is a part of the Artificial Intelligence landscape that appeared to remove barriers to using AI in various spheres of business. As we talk about no-code AI, we mean a no-code development platform with a user-friendly, drag-and-drop interface.
Such a platform helps non-engineers, for example, BAs, underwriters, product managers, or risk managers implement AI and ML to quickly classify and analyze data, and build accurate prediction models in minutes or hours. No code ML and AI allow data scientists to work on more sophisticated projects, while regular tasks can be automated.
Often no-code AI software is a custom platform or model that can be seamlessly integrated with the existing system or used separately to automate certain business processes or deal with specific tasks. The key difference of no-code AI is that it can be used right away and requires no learning curve. The interface and the workflow are simplified and straightforward, just like in GiniMachine AI-based predictive analytics software.
The market of no-code development is maturing since the late 1990ies, however, no-code AI as a sub-segment is emerging and actively growing at the time we are writing this text.
In no-code AI the core functionality can be accessed via visual interfaces, while a lot of vendors support integrations with other tools for convenient data exchange.
AI without Coding: Key Advantages
The main goal of low-code and no-code AI was to democratize the implementation of AI and ML and reduce costs making it way more accessible and affordable for SMEs, not only for large corporations. The technology expansion reached 270% in the past 4 years, but the surveys show that less than 40% of large companies adopted AI, and the figures are even less impressive for smaller companies. It means, that even with no-code AI it's still a way to go.
What are the main benefits of no code machine learning and AI software for businesses:
Easy integration. Platforms and integrable modules offered with no-code AI have created the most convenient way to match the legacy software and mitigate the drawbacks of its not being custom. In most cases, no-code AI software developers attain this goal and create a product able to meet specific requirements of businesses.
Automation and speed. AI can easily automate repetitive tasks, like contact validation, form filling, document sorting, invoicing, and more. According to a PwC survey among executives, more than half of respondents said the introduction of AI boosted productivity.
Decreased costs. Custom AI-based solutions cost a few times more, usually require hiring in-house engineers, and provide time-consuming onboarding for the team. No-code AI reduces costs and solves the accompanying issues.
Helps to introduce BI (Business Intelligence) platforms. No-code AI can be a bridge between businesses and BI dashboards. AI gathers and structures data faster and more efficiently than it can be done manually, so it can be a great connection between business processes and their measurable results.
No-code AI vs Custom AI or Data Scientists on Board
No-code solutions are not a magic pill and may have certain limitations, however, the key advantages of no code AI compared to the development of custom AI solutions or hiring data scientists are listed below:
Low cost
No-code AI allows individuals and businesses to try AI and ML for solving their tasks at a low investment (compared to hiring data scientists or developing custom AI software).
Domain experience
It allows businesses to leverage domain-specific expertise that most data scientists lack.
Speed
The development of custom AI solutions for a specific business takes months or years: it requires coding, structuring, categorizing data, as well as training and debugging the resulting model. According to the Intelligent process automation analyst paper by 451 Research, low-code or no-code platforms may cut the development time by 90%.
Ease
A higher level of AI democratization becomes available due to the 'plug-and-play' no-code approach: difficult operations become less intimidating and more comprehensive to non-engineers who lack the skills and time to design models from scratch.
Automation
For enterprises already having a data science team, the introduction of no-code AI can help in-house data scientists focus on the most important tasks, while easier predictions can be executed by business users on their own. No-code AI can become a stepping stone toward full-scale data science use in the future.
What is the Difference between No-code AI, Low code AI, and Auto ML?
All these notions have a common feature: they enable non-technical people to quickly develop AI solutions without much investment of time and resources. However, they are different.
Low-code AI platforms include pre-built components and grant access to the backend code. They are suitable for technical users, while they can modify and customize solutions to boost their functionality.
No-code AI is suitable for non-technical users, however, it neither provides access to the backend code nor allows modifying the pre-defined code structure of the platform.
Auto ML software increases the effectiveness of data science, while they provide more transparency on the machine learning process. It increases the complexity of the development process but at the same time allows data scientists to monitor and improve the process of model building.
All these types of AI/ML solutions can never fully replace hand-coded algorithms and custom development. However, they all serve different goals, so the choice needs to be made depending on the individual business needs.
What Are the Examples of No Code AI?
Depending on the industry and the particular business, no-code AI can be used for the automation of business processes, decision-making, data analysis, marketing initiatives, customer service, communications, and a lot more.
For example, GiniMachine AI is used for application scoring, credit scoring, churn prediction, and predictive analytics in financial services or in almost any other industry.
Here are other examples of AI in financial services and marketing.
No-Code AI for Better Financial Services
The data-driven nature of the financial area makes it the number one candidate for AI-based analysis and decision-making. Every single decision, from personalized products to searching for target markets and audiences, or loan decisions are based on data. No-code AI solutions for banks and financial services providers can be used for a number of purposes, such as improving the loan portfolio, reducing risks for lenders, rightsizing, automating the registration process, and a lot more. It makes the key processes faster and more cost-efficient.
No-Code AI for Tailored Marketing Efforts
Marketing requires a lot of creativity and a lot of involvement and personalization at the same time. Connectivity with the target audience can be reached with the help of AI modules to properly prepare, target, and measure marketing campaigns according to customers' expectations and needs. For example, by analyzing data about customer activities, customer lifetime value, and churn, businesses can make decisions about segmented offerings that help retain customers and improve customer service.
GiniMachine is created to process vast amounts of historical data, both prepared and raw to suggest data-based binary decisions with high predictive power.
Which Industries Benefit from No code AI Decision-Making most?
AI and ML can be implemented in various fields, but in this article, we decided to focus on business applications.
Businesses require AI models: according to Forbes, 4 out of 5 businesses mention AI as a strategic priority for the upcoming years, but they face the lack of data science talents to hire. All that leads to higher no-code AI adoption. According to Google Trends, no-code AI is still an emerging field, so perhaps the growing flexibility and increased offer of solutions on the market will drive even more interest and adoption.
AI can be used in banking and finance to streamline and optimize business processes: from monitoring and predicting credit risk to the development of quantitative trading algorithms. Also, no-code AI in the financial industry can be used for predicting any type of financial risk, customer churn prediction, or planning out a better customer experience.
Prior to the popularization of no-code AI, risk managers, lenders, underwriters, and business analysts relied on manually developed models of data scientists and IT professionals. The key drawback of this routine was time: it may take months or years to extract data, make it homogenous, analyze it, and build a model. No-code AI is based on a pre-developed backend and flexible user interface, which allows carrying out complex analysis in minutes.
What's more: no-code AI can classify service requests for businesses, make use of customer insights, filter databases, check onboarding documents, and predict consumer behavior and loan repayment.
AI enables tailored marketing campaigns as well. Connectivity with the target audience and analyzing data help to estimate customer lifetime value and churn more precisely. It allows the creation of segmented offerings and adds a personal touch, which is sometimes decisive.
How to Start with No Сode AI Development?
According to Gartner's Magic Quadrant, nearly 65% of app development will be carried out via low-code or no-code platforms by 2024. AI-based process management is soon likely to be available literally to everyone.
To begin with, formulate the key tasks the AI platform is intended to solve for your business: consider bottlenecks, ask your engineering team (if any) or business analysts. The clearer expectations you have, the easier it is to pick the right tool.
No-code AI is a growing market, and most players have specialized positioning by technology, for example, NLP, voice recognition, or computer vision. Also, companies position themselves by use cases: classification, CRM, predictive analytics for finance, and business applications.
Start with a good use case before analyzing the market, and consider what type of data you have. For example, GiniMachine decision making software is great for scoring applications, predicting loan repayment, or customer churn based on historical data (a minimum of 1000).
How to Use No-code AI Solution: the Example of GiniMachine
As we mentioned above, GiniMachine is an AI and Machine Learning No Code platform and it has a number of use cases, mostly in predictive analytics, risk management, and decision-making.
It can work with structured and unstructured data (with missing fields) to build reliable binary yes-no predictions.
The onboarding is fast, and the software is available as a web application with a clean and easy-to-use interface. You can start experimenting and building models right away. According to customers' data, GiniMachine helps to reduce risks by up to 45% and reveals the value of your data insights.
Book your free live demo and get to know the no-code AI platform in 30 minutes.
April 5, 2022 • 8 months
By GiniMachine
Related Articles
Subscribe
Get the latest news and views from Ginimachine delivered to your inbox.